June 4, 2013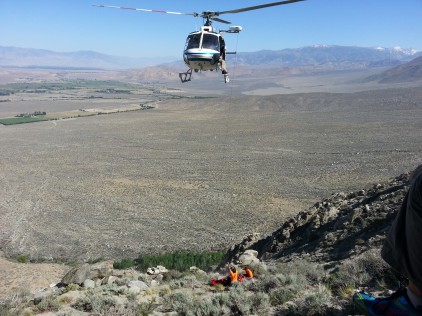 On Owens Valley's Wheeler Ridge, on the Sierra escarpment near Bishop, California, Inyo County Search & Rescue personnel prepare to winch an injured soaring parachutist aboard a California Highway Patrol helicopter.



Winch operations require the helicopter to hover within the Helicopter Dead Man's Curve, placing the crew at risk of death should sudden mechanical failure occur. While it is possible for any helicopter to operate outside the HDMC for its entire service life, the decision to risk flight within the HDMC is made by choice when required for lifesaving operations, hovering at low altitudes, and winching. The risk of catastrophic mechanical failure has been significantly reduced by redundant engine systems and computerized pilot warning systems.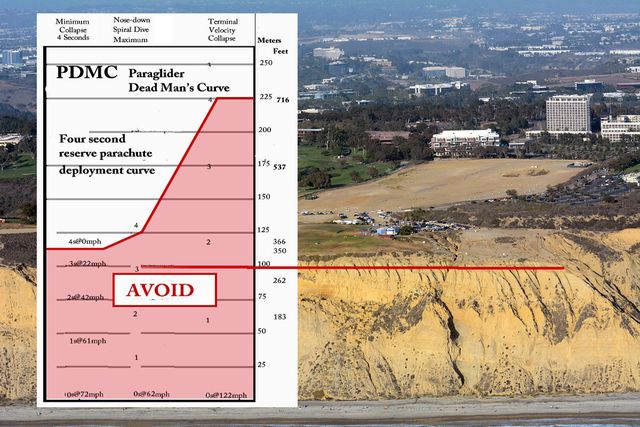 Unlike the HDMC, a paraglider, flying only for fun, must enter the Paraglider Dead Mans Curve at least twice every flight: at takeoff and landing. Soaring parachutists also often choose to ignore the risk and fly within the PDMC in search of lift, where the likelihood of encountering normal ground turbulence, which can cause the canopy to collapse below effective emergency reserve height, is greatest. Most of the thousands of serious injuries and 1,397 paragliding deaths that I am aware of were a result of canopy collapse within the PDMC.
---------
Inyo County Search & Rescue
In any season, in any weather, at any time of day or night, the Inyo County Search and Rescue Team is prepared to bring our technical ability and medical knowledge to the service of those lost or hurt in the backcountry.
SAR operations require enormous physical effort, quick thinking in emergency situations, teamwork, endurance, creativity, and compassion. Our missions often last for more than twenty-four hours and rarely take less than ten. We are a team of highly-skilled and dedicated volunteers; we receive no compensation for the time we spend away from our jobs and families.
While Inyo SAR has oversight from the County Sheriff's Department, we are proud to say that the greater part of our funding comes from public donations. The litters, backboards, climbing ropes, avalanche beacons, and first aid supplies that keep our patients safe are purchased with funds given to us by the families of the people we've assisted and other concerned citizens.
Though we ask nothing in return for the services we provide, compassionate people within and beyond our community make it possible for us to help others in the future.
We welcome donations of all kinds, including gear and equipment in good condition. To make a financial contribution, please click on the link below. The link will take you to a secure site where you will see our legal banking name, Inyo County Sheriffs Inc. Rest assured, any donation will be allocated directly to the Search and Rescue Team. To donate gear, email
inyosearch@gmail.com
.
Please consider joining in the tradition of public support that has fueled our rescue efforts for decades. Your tax-deductible donation to the Inyo County Search and Rescue Team will help to keep you and your loved ones safe as you explore the mountains and deserts of our beautiful backyard.
http://inyosar.com/donate/