On July 16, 2015, following three paragliding collapse fatalities, all hang gliding was banned from the Italian side of Mt. Blanc, one of the world's most historic and premier hang gliding venues. This is the NOTAM issued by the Milan Com Center.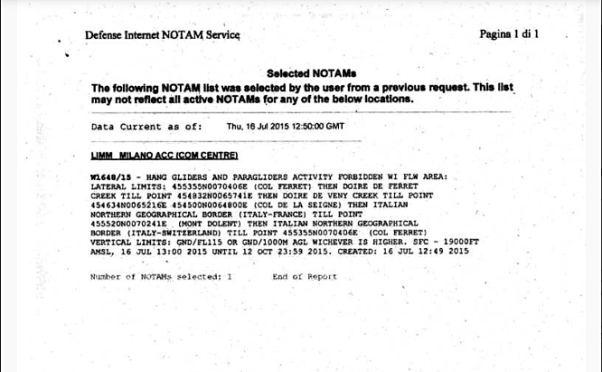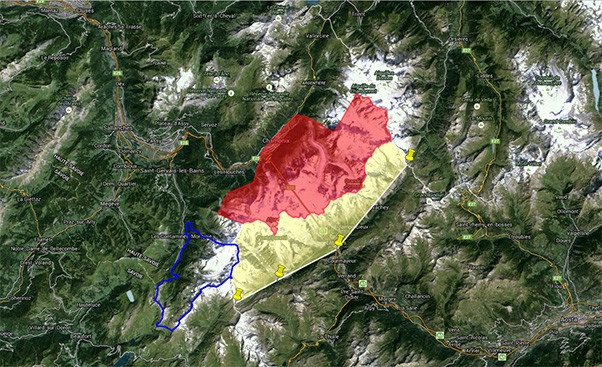 The temporary ban of Italian airspace prohibited to hang gliding (yellow) is added to the permanent French airspace ban placed into effect October 13, 2008. Here is a higher resolution map of the Italian airspace:
https://www.google.com/maps/d/viewer?mid=zCCkzrgz81vw.kb1PppTcbPNQ
Here is the explanation of the ban issued by the Italian Federation of Freeflight.
http://www.fivl.it/sicurezza/lista-avvisi/1483-monte-bianco-vietato-al-volo-libero
The FIVL adds: "First we take the opportunity to remind all pilots of free flight that the flight conditions downwind are particularly risky for a wing as limp as a paraglider." (Note the use of Joe Faust's terminology.)
I find this insulting to the intelligence of hang glider pilots who have chosen an airframe specifically to survive normal air turbulence.
Here is the advisory issued to soaring parachutists by the French Federation of Free Flight detailing the ban.
http://federation.ffvl.fr/sites/ffvl.fr/files/Fly%20Secu%20Mont-Blanc%20WEB.pdf
Hang gliding is not mentioned.
The French minister for foreign affairs warned that "Anybody who overflies this area, voluntarily or involuntarily, risks criminal prosecution, fines and the confiscation of their flying equipment."
Here is the article about the ban, published in Cross Country Magazine on July 20.
http://www.xcmag.com/2015/07/free-flying-banned-on-italian-side-of-mont-blanc/
Hang gliding is not mentioned.
The fact that hang gliding was banned because of paragliding is not mentioned in what might be considered by some as the world's premier freeflight magazine.
Hang gliding had nothing to do with the ban.
The authorities banned "freeflight" because they hold the paragliding organizations responsible for causing the problems that led up to the ban.
Neither the Italian or French freeflight organizations speak up for hang gliding. They are so dominated by paragliding that concerns about hang gliding must be an afterthought. Certainly, to them, it seems reasonable to ban hang gliding because paragliders collapse.
No argument in defense of hang gliding was presented to the authorities.
I have been warning for years that hang gliding will suffer by its
foolish association with parachuting.
This European airspace ban is the world's most prominent example - but it is far from the only one.
This blog is for reporting incidents of losing airspace to hang gliding anywhere in the world because of paragliding.