Bob Kuczewski wrote:
February 17th, 2020
La Jolla Town Council Mayoral Candidates Forum
February 17th @ the LJ Community Center.
6811 La Jolla Blvd, La Jolla, CA 92037, USA
5pm-8pm
Election season is the only time we get a chance to hold politicians accountable for their actions.
Tonight, Bryan and I used trusty "Little Hawk" as a prop to call attention to the ongoing problems at Torrey Pines Gliderport.
We spoke to a number of Mayoral candidates ... including one of my favorites:
Tasha Williamson
:
Attachment:
File comment: San Diego Mayoral Candidate Tasha Williamson poses with Little Hawk on February 17th, 2020 at the Mayoral Debates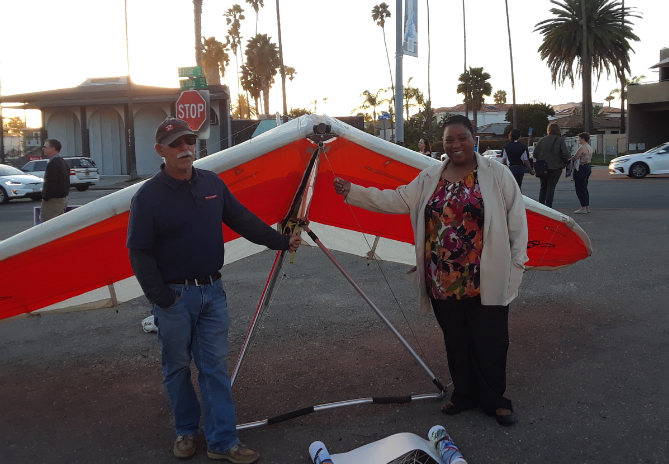 Tasha_Williamson_Little_Hawk.png [ 474.95 KiB | Viewed 4430 times ]
Another favorite of mine is
Rich Riel
. Unfortunately, I didn't get a picture of Rich with Little Hawk. I'll put that on my "to do" list for future events.
I also spoke with the disgusting
Todd Gloria
. I have the whole exchange on video, but until I can post the video, here's the full text of what was said:
Bob
:
So Todd, what are you going to do about the deaths and abuses at the Gliderport? What are you going to do as Mayor?
Todd
:
I don't have a plan to offer you right now Bob.
Attachment: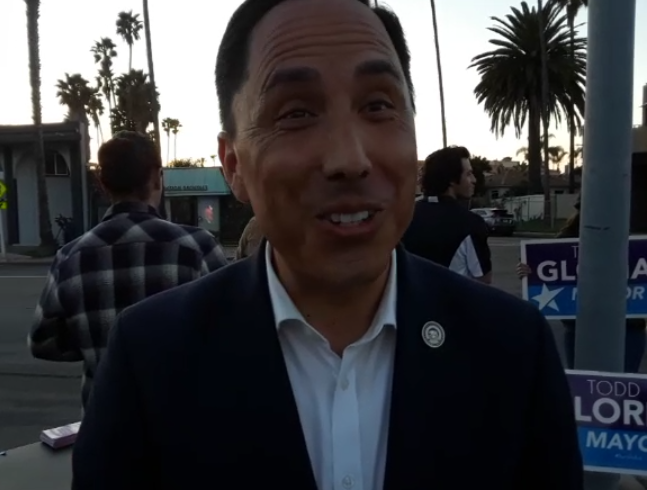 Todd_Gloria_No_Plan.png [ 308.38 KiB | Viewed 4430 times ]
Bob
:
When will you have a plan to offer us about the Gliderport? The deaths? The abuses? The lease that expired during your term? When are you going to tell us what you're going to do about It? Will you tell us tonight?
Todd
:
I don't have a plan to offer tonight. No Bob I don't.
Bob
:
When will you have one?
Todd
:
I don't have an answer for you right now Bob.
Bob
:
OK. Thank you. Good luck in the debate.
Remember that Todd Gloria is well aware of the issue (that's how he knew my name without me saying it). Todd Gloria was City Councilman during years of abuses and accidents. He was Council President during years of abuses and accidents. And he was Mayor for the better part of a year during accidents and abuses. In all that time, and in all those positions, Todd Gloria did nothing.
Now Todd is running for Mayor and he admits that he has no plan and no answers. Gee, neither Rich Riel nor Tasha Williamson have ever been a Councilmember or Council President or Interim Mayor, and they both have plans. How come Todd Gloria has no plan?
Eventually we all ended up in the "standing room only" La Jolla Community Center with 6 candidates (left to right):
Tasha Williamson
Scott Sherman
Rich Riel
Todd Gloria
Barbara Bry
Gita Applebaum Singh
Attachment:
Mayoral_Debate_2020_02_17.png [ 321.67 KiB | Viewed 4430 times ]
Here are my written questions that I ended up asking verbally at the microphone. I had intended my questions for the whole panel, but for some reason the moderator only allowed
Barbara Bry
to answer:
Quote:
As Mayor,
what
will you
PROMISE
to do about ongoing:
Bullying
Accidents and Deaths
Retaliation for Testimony
at the Torrey Pines Gliderport?
And why should we believe you?
Bry dodged the question and referred me to "Real Estate Assets".

The big spender of the evening was Councilmember Scott Sherman with this gaudy rolling advertisement that he left parked outside all evening:
Attachment:
Shermans_Rolling_Billboard.png [ 456.2 KiB | Viewed 4429 times ]
It turned out to be a super evening with lots of new contacts. I am very grateful Bryan was there to help with Little Hawk and to be my "wingman" in many conversations. Thanks Bryan.