miguel wrote:
Sounds about like a black person attending a klan meeting
Jacmac wrote:
You don't know how right you are about that, although the real fireworks were before the meeting started. Bob does not need to say anything, someone will start up ruckus by his mere presence at the site. Lets just say that there are some self-decribed crazy people at Torrey.

I was going through my pictures from the recent restraining order case, and I came across these pictures of one of the bullies at the Gliderport. These were taken just prior to the Soaring Council meeting reported above (January 16th, 2012). I'm posting them now to document the kind of abuse that's been allowed at the Gliderport for years. These are from video, and the original video clip also contains the audio of what's being said. Those attending the meeting may remember some of it ... and it wasn't pretty.
Attachment:
Poirier_001.jpeg [ 39.01 KiB | Viewed 5321 times ]
Attachment: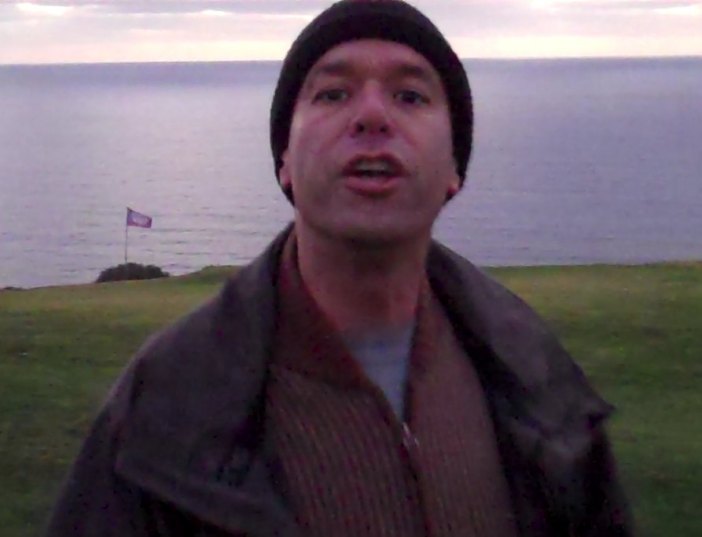 Poirier_002.jpeg [ 38.33 KiB | Viewed 5321 times ]
Attachment:
Poirier_003.jpeg [ 33.86 KiB | Viewed 5321 times ]
Attachment:
Poirier_FU.jpeg [ 33.55 KiB | Viewed 5321 times ]
Note that this is the same person (Doug Poirier) who Brad Hall supposedly chose to represent all of USHPA on the Torrey Pines Soaring Council back when it was being restarted in the spring of 2007. You can read the unfinished story of the Modern Torrey Pines Soaring Council here:
http://ushawks.org/forum/viewtopic.php?f=27&t=936
I used the word "supposedly" because when Doug Poirier showed up at the Soaring Council meeting, Gary Fogel asked him who had appointed him. Poirier was sitting next to Gabriel Jebb, and Gabe Jebb spoke up and said "Brad Hall". Poirier nodded his head and echoed "Brad Hall". They looked like two little kids telling a lie together ... about to be caught.
What they didn't know was that I had been communicating with Brad Hall about who Brad (one of the current USHPA Regional Directors in 2007) was planning to appoint to the Council to represent USHPA. Brad had told me that he wasn't sure yet. So when Doug Poirier showed up claiming to have been appointed by Brad Hall, I was shocked. So I called Brad Hall immediately after the meeting to ask if he had appointed Doug Poirier. Brad Hall said he'd never heard of him and that he certainly didn't appoint anyone to the Council yet.
Brad Hall seemed pretty upset that someone would show up at the Council claiming to have been appointed by him. So I felt pretty good that Brad Hall would get to the bottom of it and straighten it out. That's when I first discovered just how deeply the tentacles of Jebb's power extended into USHPA.
When Brad got back to me he said there was a "misunderstanding", and that he was, indeed, appointing Doug Poirier to represent USHPA on the Torrey Pines Soaring Council. Now how could it be that Brad Hall said he didn't even know who Doug Poirier was, and the next thing you know, he's the one guy - out of all of the USHPA members in Brad's region - that Brad Hall wanted to represent USHPA on the Soaring Council?
I suspect that David Jebb (or possibly Gabe Jebb) actually picked Doug Poirier to be on the Council. Since David Jebb and Brad Hall were both Region 3 Directors, it's not clear who should have been doing the appointing. At the meeting, I am suspecting that Gabe Jebb might have felt it would look like a conflict of interest (which it was) for his father David Jebb to be picking USHPA's representative to the same Council that's supposedly overseeing his own business. So I am suspecting that Gabe Jebb lied when he said that Brad Hall had appointed him, and he figured he'd tell Brad Hall who Brad had supposedly appointed ... after the fact. Neither Gabe Jebb nor Doug Poirier suspected that I'd call Brad Hall immediately after the meeting - which I did.
Here's the message from Brad Hall to Gary Fogel sent shortly after my phone call to Brad:
Quote:
Hi Gary,

Just a note to let you know that I did not appoint Doug Poirier or anyone else as a rep from the USHPA.

I honestly do not even know who he is. I hope this was just a misunderstanding on his part. I will get to the truth of it and let you know.

Brad
That message sure sounded like Brad was going to "get to the truth of it" (Brad's own words). But then he had a talk with one of the Jebbs. It's shocking to see how quickly the blustery Brad Hall turned into a puppet. Read his response carefully to see how he covers for the lies of Gabe and Doug at the Soaring Council meeting. Then read Gary's response below which is right on target.
Quote:
Hi Bob,

Just an update re;our conversation last night. I have talked with Gabe, Gary, and Doug. Part of the misunderstanding about an appointment falls on me. I had said that I did not want to be involved with the soaring council, as I feel I served my time in the past. I should have said "as a member of the council". This was taken to mean I had no interest. In fact I do have an interest. I am learning more about what the council is focusing on and what they are not. There seems to be some validity to the threat posed by UCSD and the future of sailplane operations at Torrey. This is a large issue and deserves some attention. From what I have heard so far the council is addressing this issue.

I have gone back and read everything you have posted and the emails you have sent me. Sometimes you come across as reasonable and concerned. Other times it seems like you have a problem with the Jebb family and are trying to use the soaring council as a means to oust them. Often it is hard to tell what you think you will accomplish with all this. You certainly have a way with words, but seem very selective in your responses to direct questions. You do have a way of alienating those that do not agree with your positions. I can't tell if this is intentional or not.

It Has been my experience over the years that compromise is what reasonable people do to resolve differing opinions. If you look at the overall make up of the soaring council you will see that all parties have their specific flight discipline that they all feel is the most important. It is through taking a bigger view of the whole picture that they are able to come to a consensus and do what they, in their collective wisdom, deem to be right. No one gets all they want, but all get something. A spirit of cooperation is the machine that drives the end results.

I know many of the members of the soaring council. Some for many years. As a board that has very little hope of affecting real change, I applaud them all for the effort. I have sat in the same chair and learned many lessons in the process. Sometimes the effort is worth it, most times it is not. This is not to say the challenges should not be met.

The reality is the soaring council has been an advisory committee. It does not make policy. It is often ignored or dismissed. The absolute worst thing it can do, in my opinion, is parade its disputes and perceived injustices before any City employee or council. We have the privilege of flight at Torrey. It is not a right. It has been revoked in the past and can be revoked again. They are most happy when we are "invisible". We should be able to operate within the existing boundaries and take care of each other. We certainly do not want Joe Pension from the complaint department being the one that decides our fate. This is a real possibility if the City were to decide to become involved on even a minor scale.

I hope you can step back and see if your actions are really in the best interest of all pilots. This is not to say that you do not have valid concerns. I believe some are. There are few among us who are willing to speak up for what they feel is right. Ask yourself if all your effort has made a positive difference. If not, why not? It can't be that all who disagree with you are wrong. There must be a path for you to take that will generate a positive outcome. Adversarial or derogatory remarks never creates a coalition or alliance to help you move your ideas ahead. Perhaps it is time to cool off and regroup. Get some airtime. Have some fun. Please move cautiously. Don't do anything that will put Torrey at risk.

Brad Hall
Wow!! That made it pretty clear who was pulling Brad Hall's puppet strings!!! Note the themes of "don't rock the boat" or we'll all lose Torrey. In other words, don't report the abuses or the safety violations or the violations of the law. And whatever you do, don't get the City involved in overseeing a park that's supposedly owned by the people of San Diego!!
Here's Gary Fogel's response to Brad Hall:
Quote:
Brad,

Curious on your take on this and if there was any further development today. I saw the copy of the email to Bob but it seemed to focus more on Bob than on the stunt that Doug (and Gabe?) pulled on the Soaring Council yesterday. I'm very curious how it is that Doug defended his actions to you.

Quite honestly, I feel completely duped. Doug blatantly lied to everyone about your appointing him, and Gabe corroborated this. If we had known the truth, that he was not appointed by you, I seriously doubt even one council member would have voted for him. I know that Angelo Orona, Ed Slater, and I all were swayed simply because he mentioned your name and we all consider you to be a good judge of character for the council.

I think it is imperative for USHPA to have the representative it wants but to do that representation properly the person has to be honest with the council and thus represent USHPA honestly. To defend Bob ... Bob was the only one in the room that saw through this ruse and voiced a calm and consise opinion that Doug would not be a good choice for the soaring council. I appreciate his honesty and should have listened to him more closely.

I'm in business meetings much of the day tomorrow but I'll do my best to give you a call so we can discuss further.

Gary
Of course, being the puppet of the Jebbs, Brad Hall stood by his appointment. Eventually - a few months later - I met the USHPA President, Lisa Tate, and I explained the situation. She was very adamant that only USHPA Regional Directors could represent USHPA on the Soaring Council, and so in the fall she replaced Doug Poirier with ... Brad Hall.